Volume 60 , Number 1
Page: 89–91
Subcorneal pustular dermatosis in type 2 lepra reaction

K. Pavithran
---
To the Editor:
A 46-year-old male was diagnosed to have lepromatous leprosy in July 1990, based on clinical and histopathological features and by demonstration of acid-fast bacilli in slitskin and earlobe smears. There were multiple, shiny, infiltrated macules, plaques and nodules distributed bilaterally and symmetrically on the trunk, limbs and face. The bacterial index (BI) was 6+ (Ridley-Jopling scale) and the morphological index (MI) was 40%. Routine laboratory tests on blood, urine and stools were normal. He was treated with dapsone, rifampin and clofazimine as recommended by the World Health Organization (WHO) for multibacillary leprosy. While on treatment he developed features of type 2 lepra reaction characterized by intermittent high fever, anorexia, neuralgia and multiple erythema nodosum leprosum (ENL) lesions on the front of his legs, face and forearms. Along with these, he also developed numerous pin-head to pea-sized, superficial, oval flaccid pustules on his limbs, buttocks and chest. On the buttocks they were arranged in a serpiginous pattern, while on the arms they remained discrete (Figs. 1 and 2). These pustules were independent of the ENL lesions. Each pustule dried up and desquamated in 5 to 7 days leaving faint hyperpigmentation, but fresh crops of pustules continued to erupt along with the features of systemic toxicity. Blood tests done at this time revealed leukocytosis (12,000 cells/cubic mm) with a predominance of neutrophils (70%) in the differential leukocyte count. ESR was 80 mm first hour (Westergren). Blood VDRL and tests for rheumatoid factor and lupus erythematosus (LE) cells were negative. Gram staining of the pus taken from the pustules did not show any bacterium, and its culture was sterile. Histopathological study of an intact pustule showed a subcorneal pustule containing numerous neutrophils (Fig. 3) and diffuse macrophage granuloma in the dermis with a clear subepidermal zone. There were no histopathological features of vasculitis.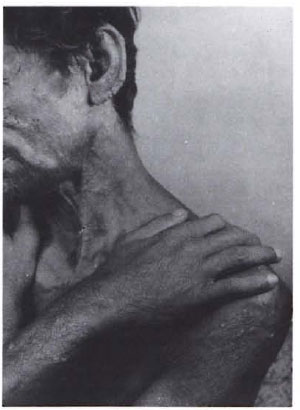 Fig. 1. SCPD in a patient with lepromatous leprosy. Note numerous, tiny pustules on the forearmsand upper arms and thickening of the earlobes.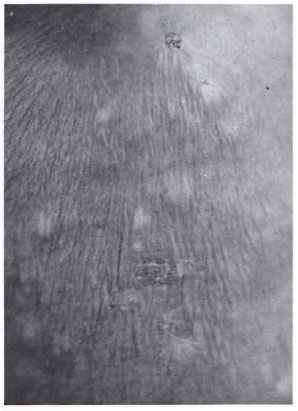 Fig. 2. Close up view of the pustules which are oval, superficial and discrete.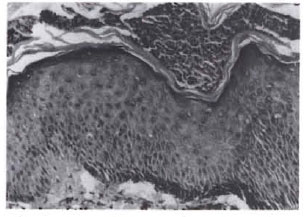 Fig. 3. I listopathology showing a subcorneal pustule containing neutrophils (x450).
The dose of clofazimine was increased to 300 mg daily, and he was also given ibuprofen and cloxacillin orally. But the lepra reaction could not be controlled and the pustules and ENL lesions continued to erupt. Further, he developed paralysis of the ulnar nerve on the right side as evidenced by difficulty to adduct the medial two fingers of the right hand. He was then given oral prednisolone 40 mg daily along with antileprosy drugs. Within 48 hr of starting steroid therapy, his fever subsided and the pustules and ENL lesions started to regress. There was relief of his neuritic pain and, hence, the dose of prednisolone was gradually reduced and finally withdrawn in September 1991. There has been no recurrence of subcorneal pustules or ENL lesions, and the patient is now on antileprosy drugs alone.
The morphology and evolution of the pustules and their histopathological features suggested a diagnosis of subcorneal pustular dermatosis (SCPD) in our patient. The exact cause of SCPD is unknown. Recently, immunologic mechanisms have been implicated in its pathogenesis. Krogh and Tonder(4) could detect antistratum corneum antibodies in two cases. Rarely SCPD may coexist with known autoimmune diseases such as systemic lupus erythematosus and rheumatoid arthritis (5,6). Bomb, et al. (2) reported it in a patient with lepromatous leprosy and suggested that the autoantibodies to stratum corneum probably led to the development of SCPD in their patient.
In our patient, the development of SCPD simultaneously with the signs and symptoms of type 2 lepra reaction appears to be more than a chance occurrence. In addition to the clearly demonstrated mechanism of the Arthus phenomenon, a possible autoimmune mechanism also has been suggested in the induction of reactions in Lepromatous cases (3). Many serological findings confirm that the markers of autoimmune diseases are present in high titers during lepra reaction. These include rheumatoid factor, thyroglobulin antibody, and cold precipitable protein. The clinical features of type 2 lepra reaction often resemble autoaggrcssive connective tissue diseases (1). Thus, autoimmunity plays a major role in the development of SCPD as well as lepra reactions. So, the coexistence of SCPD and type 2 lepra reaction, as observed in our patient, appears to be more than fortuitous. Subsidence of both SCPD and ENL lesions following corticosteroid therapy further supports the view that both are induced by the same immunologic mechanism.
- K. Pavithran, M.D., D.V.D.
Associate Professor
Department of Dermatology and Venereology
Medical College Hospital
Kottayam 686 008, India
REFERENCES
1. AZULAY, R. D. Autoaggressive hanseniasis. J. Am. Acad. Dermatol. 17(1987)1042-1046.
2. BUMB, R. A., KHULLAR, R. and MATHUR, N. K. Coexistence of subcorneal pustular dermatosis and lepromatous leprosy. Indian J. Dermatol. Venereol. Leprol. 51(1985)48-49.
3. DHARMENDRA and DESIKAN, K. V. Mechanisms of reactions. In: Leprosy. Vol. 2, Dharmendra, ed. Bombay: Samant and Company, 1985, pp. 984-998.
4. KROCH, H. K. and TONDER, O. Subcorneal pustular dermatosis: pathogenetic aspects. Br. J. Dermatol. 83(1970)429-434.
5. OLSEN, T. G., WRIGHT, R. C. and LESTER, A. I. Subcorneal pustular dermatosis and crippling arthritis. Arch. Dermatol. 115(1979)185-188.
6. SAULSBURY, P. T. and KESLER, R. W. Subcorneal pustular dermatosis and systemic lupus erythematosus. Int. J. Dermatol. 23(1984)63-64.