Volume 60 , Number 2
Page: 274–6
Giant histoid tumor

K. Pavithran
---
To the Editor:
Histoid leprosy, originally described by Wade in 1963 (5), is characterized by the development of discrete, firm, dome-shaped nodules that stimulate benign skin tumors both clinically and histopathologically. They develop on an apparently normal skin in patients with lepromatous leprosy who have relapsed after prolonged monotherapy with dapsonc. Histoid lesions tend to arise at unusual body sites, and their sizes range up to 3 cm in diameter (4).
A 45-year-old man with histoid leprosy is reported. He presented with a well-defined, nontender, large, raised, tumor-like lesion of 6 × 4 × 3 cm on the left elbow. The "tumor" was not fixed to the underlying bone or muscle and its surface was shiny with softening and crusting at four points (Fig. 1). A few, scattered, discrete, firm, dome-shaped, well-defined, hemispheric, shiny papules and nodules were seen on the trunk and upper arms (Fig. 2). Their size varied from 0.5 to 2 cm, and most of these nodules showed central depression due to necrosis and crusting. There were multiple, diffusely infiltrated, shiny macules and patches on the face, trunk, and limbs. The ulnar nerves and the common peroneal (lateral popliteal) nerves on both sides were diffusely enlarged. The patient had not been on any antileprosy drug in the past.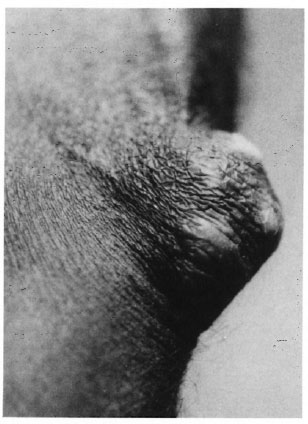 Fig. 1. "Giant histoid tumor" at the elbow. Note areas of softening, crusting, and depression on the surface.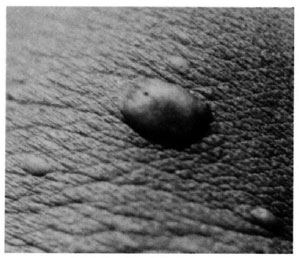 Fig. 2. Close-up view of a histoid nodule. Note central depression due to softening.
Routine laboratory tests on blood and urine and the liver function tests were normal. The slit-skin smears from the infiltrated macules, nodules and "tumor" and from the earlobes showed numerous acidfast bacilli with a bacterial index (BI; Ridley-Jopling scale) of 6+ and a morphological index (MI) of 64%. The histopathological study of a cutaneous nodule and the excised "tumor" at the elbow revealed dense, circumscribed collections of spindle-shaped histiocytes surrounded by a pseudocapsule. The cells were oriented in the same direction, and were arranged in wavy bands and whorl patterns (Fig. 3). Acid-fast staining showed numerous bacilli within the spindle-shaped cells. Only a few vacuolated foamy macrophages were seen. The infiltrates in the cutaneous nodule were confined to the dermis but those in the "tumor" involved both the dermis and subcutis. The patient was treated with dapsone, rifampin, and clofazimine as recommended by the World Health Organization for multibacillary leprosy (6). There was a gradual fall in the MI and when seen 6 months after starting chemotherapy, the MI was only 8% and most of the nodules were regressing. The patient is still on treatment.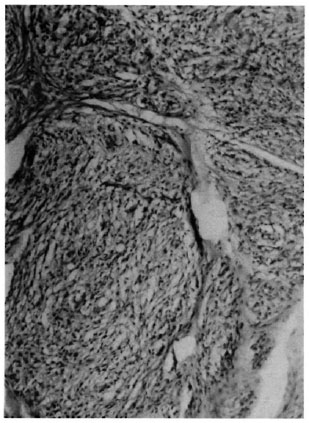 Fig. 3. Monomorphous infiltrate consisting of spindle-shaped histiocytes in the dermis and subcutis arranged in a whorl (x 100).
Histoid leprosy is not uncommon in South India. The interesting feature observed in this patient was the presence of an enormous tumor-like lesion of histoid leprosy on the elbow. Such a feature is quite unusual in this type of leprosy. Only because of the presence of other cutaneous nodules was the leprous etiology of this "tumor" suspected. The exact mechanism of the development of such a "giant histoid tumor" in our patient is not known. It was deeper, larger, and more raised than the "histoid plaque" (histoid pad) described by Chaudhury, et al. (1). The presence of necrosis, softening, and crusting at four points on the surface of the tumor suggested that it was formed by coalescence of multiple histoid nodules.
In most cases histoid lesions develop during a relapse (2), and the bacilli in these lesions have been shown to be resistant to dapsone (3). But in our patient the histoid nodules and the "tumor" developed per se without any prior chemotherapy for leprosy.
- K. Pavithran, M.D., D.V.D.
Associate Professor
Department of Dermatology and Venereology
Medical College Hospital
Kottayam 686008, India
REFERENCES
1. CHAUDHURY, D. S., CHAUDHURY, M. and ARMAH, K. Histoid variety of lepromatous leprosy. Lepr. Rev. 42(1971)203-208.
2. DESIKAN, K. V. and IYER, C. G. S. Histoid variety of lepromatous leprosy: a histopathologic study. Int. J. Lepr. 40(1972)149-156.
3. PEARSON, J. M. J., REES, R. J. W. and WATERS, M. F. R. Sulphone resistance in leprosy: a review of one hundred proven clinical cases. Lancet 2(1975)69-72.
4. PFALTZGRAFF, R. E. and BRYCESON, A. Clinical leprosy. In: Leprosy. Hastings, R. C., ed. London: Churchill Livingston, 1985, pp. 134-176.
5. WADE, H. W. The histoid variety of lepromatous leprosy. Int. J. Lepr. 31(1963)129-142.
6. WHO STUDY GROUP. Chemotherapy of leprosy for control programmes. Geneva: World Health Organization, 1982. Tech. Rep. Ser. 675.