Volume 58 , Number 1
Page: 118–20
Relapse or late reversal reaction?

Virendra N. Sehgal; Sambit N. Bhattacharya; Sanjiv Jain
---
To the Editor:
Indeed, relapse or reaction is an important subject for a dialogue. Pannikar, et al.(4) may, therefore, be complimented for focusing readers. However, it is hard to share their view, that clinically it is often difficult to differentiate between the two. Should the cardinal clinical expressions of the disease be conceived well, the diagnosis can be made reasonably.
It is not only a question of differentiating relapse from "late reversal reaction," but also type 1 (lepra) reaction as a whole. At this state, therefore, it is imperative to conceive that type 1 (lepra) reaction may manifest either as an "upgrading" (reversal) reaction or a "downgrading" reaction. They are characterized by erythema, edema and tenderness of the macules and/or plaques (1, 2). Classically, it expresses itself as an "inverted saucer," in contrast to the "saucer, the right way up." Of course, the nerves supplying or feeding the patch(es) may be excruciatingly tender or enlarged. Should these changes be confined to one or a couple of lesions, the reaction may be upgrading (reversal) reaction. Occasionally, the immune response may be so severe as to result in ulcerative plaques (9); whereas in downgrading reaction, the afore-mentioned features may affect almost all of the existing lesions. In addition, the expansion of the existing plaques and the appearance of fresh lesions (9, 11) is contributory. These changes may be attended by pyrexia. Type 1 (lepra) reaction may be recorded in borderline tuberculoid (BT), borderline borderline (BB), and borderline lepromatous (BL) leprosy. Furthermore, intercurrent infections, pregnancy and drugs may precipitate these episodes (9, 11). Type 1 (lepra) reaction, therefore, should be considered as a mirror image of the ameliorating or deteriorating cell-mediated immunity (8, 10, 11, 13). Histopathology and immunology may be complementary to clinical impression and are depicted in Table 1 (7, 11).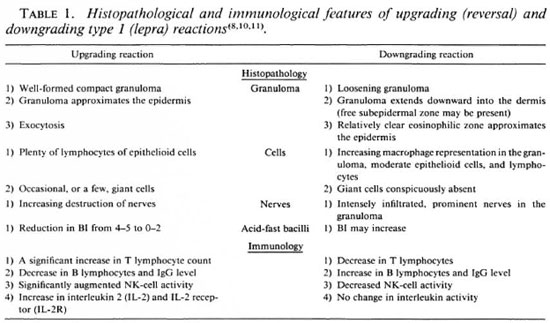 At this juncture, it is relevant to highlight the clinical as well as histopathological features of downgrading reaction, and downgrading per se (9). The latter phenomenon is a part of the natural evolution of the disease, and is envisaged in the continuous spectrum of leprosy (Table 2).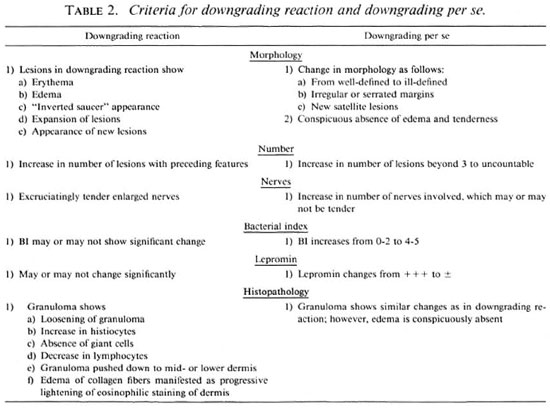 The term "relapse in leprosy" should preferably be replaced by "reactivation leprosy," a self-explanatory term, in order to avoid confusion. Nevertheless, the relapse/reactivation leprosy should be recognized by the criteria laid down afresh in an abridged form (Table 3). This was considered imperative for few of the parameters appeared superfluous (4).
-Virendra N. Sehgal, M.D., F.N.A.Sc.
Sambit N. Bhattacharya, M.B.B.S.
Sanjiv Jain, M.B.B.S.
Department of Dermatology, Leprology and Venereology
Maulana Azad Medical College and associated LNJPN and GB Pant Hospitals
New Delhi 110002, India
REFERENCES
1. BJUNE, G. Reactions in leprosy. Lepr. Rev. 54 Special Issue (1983)S61-S67.
2. JOPLING, W. H. Reactional stales. In: Handbook of Leprosy. London: William Heinemann Medical Hooks, 1984, pp. 68-77.
3. KATOCH, K., RAMANATHAN, U., NATRAJAN, M., BAGGA, A. K., BHATIA, A. S., SAXENA, R. K. and RAMU, G. Relapses in paucibacillar ter treatment with short term regimens containing rifampin. Int. J. Lepr. 57(1989)458-464.
4. PANNIKAR, V., JESUDASAN, K., VIJAYKUMARAN, P. and CHRISTIAN, M. Relapse or late reversal reaction? Int. J. Lepr. 57(1989)526-528.
5. PAVITHRAN, K. Relapse of paucibacillary leprosy after short course multidrug therapy. Indian J. Lepr. 60(1988)225-229.
6. RIDLEY, D. S. and RABIA, K. B. The histological course of reactions in borderline leprosy and their outcome. Int. J. Lepr. 49(1981)383-392.
7. SEHGAL, V. N., KORANNE, R. V. and BEOHAR, P. C. The histopalhology of type I (Lepra) and type II (ENL) reactions in leprosy. Indian J. Lepr. 58(1986)240-243.
8. SEHGAL, V. N., GAUTAM, R. K. and SHARMA, V. K. Immunoprofile of reactions in leprosy. Int. J. Dermatol. 25(1986)240-244.
9. SEHGAL, V. N. Reactions in leprosy; clinical aspects. Int. J. Dermatol. 26(1987)278-285.
10. SEHGAL, V. N., SRIVASTAVA, G. and SUNDHARAM, J. A. Immunology of reactions in leprosy; current status. Int. J. Dermatol. 27(1988)157-161.
11 SEHGAL, V. N. and SHARMA, V. Reactions in leprosy-a prospective study of clinical, bacteriological, immunological and histopathological parameters in thirty-five Indians. J. Dermatol. (Tokyo) 15(1988)412-119.
12. TOUW LANGENDIJK, E. M. J. and NAAFS, B. Relapses in leprosy after release from control. Lepr. Rev. 50(1979)123-127.
13. WATERS, M. F. R., TURK, J. L. and WEMAMBU, S. N. C. Mechanism of reactions in leprosy. Int. J. Lepr. 39(1971)417-428.