Volume 69 , Number 2
Page: 114–5
Relapsing multibacillary leprosy - a new dimension to transmission in urban areas

R. Ganapati; H. O. Bulchand; V. V. Pai; S. Kingsley; C. R. Revankar
---
This department is for the publication of informal communications that are of interest because they are informative and stimulating, and for the discussion of controversial matters. The mandate of this journal is to disseminate information relating to leprosy in particular and also other mycobacterial diseases. Dissident comment or interpretation on published research is of course valid, but personality attacks on individuals would seem unnecessary. Political comments, valid or not, also are unwelcome. Tliey might result in interference with the distribution of the JOURNAL and thus interfere with its prime purpose.
It is very well known that a bacterial disease cannot be eradicated by chemotherapy alone. Although leprosy has come under control after the advent of multidrug therapy (MDT), several factors still have to be considered in breaking the chain of transmission. Besides hidden, untreated, skin smear-positive cases, the contribution of patients relapsing with multibacillary (MB) leprosy with positive skin smears (irrespective of their degree of positivity) has not been adequately documented at the population level. Although relapses are few in relation to the number of leprosy cases completing the treatment and those relapses are all re-treatable, this phenomenon brings a new dimension to the "hidden" aspects of transmission of leprosy, particularly in densely populated cities.
It is surprising that in our experience only 1 case relapsed 8 years after release from treatment (RFT) out of 121 MB cases whose initial bacterial index (Bl) was more than 3+ and who were followed up for periods ranging from 5 to 13 years (Table I). On the other hand, it is also true that cases with sporadic relapses eluding attention keep reporting voluntarily, well beyond the specified surveillance period, posing a threat of transmission (Table 2, Figs. 1 and 2).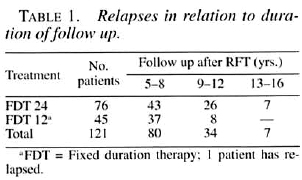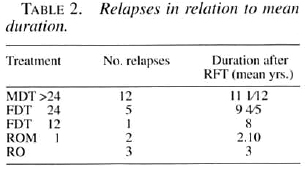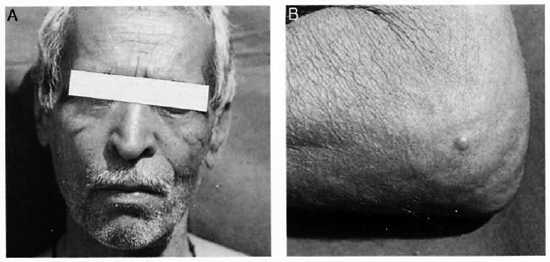 Fig. 1. A = Patient receiving extended MB-MDT: B = Relapse 12 years after stopping treatment.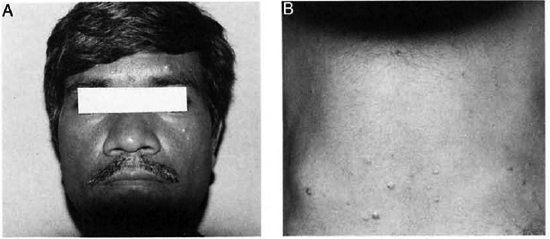 Fig. 2. A = Patient receiving 12 months of MB-MDT; B = Relapse 8 years after stopping treatment.
Many patients in this group had received MDT for many years beyond the period of skin-smear negativity (some were on dapsone monotherapy prior to MDT). In out- opinion relapses seem to occur, as indicated in the following schematic diagram representing a span of 15 years:

The solution to such a problem is to undertake a "mopping-up" exercise, if one is to identify these relapses before they spread the infection to a large segment of the urban population.
- Dr. R. Ganapati
Dr. H. O. Bulchand
Dr. V. V. Pai
Mr. S. Kingsley
Dr. C. R. Revankar
Bombay Leprosy Project
Vidnyan Bhavan
11 VN Purav Marg
Sion-Chunabhatti
Mumbai 400 022, India