Volume 66 , Number 1
Page: 57–8
Relapse of multibacillary leprosy after rifampin and ofloxacin treatment for 28 days; a case report

R. Ganapati; V. V. Pai; C. R. Revankar; S. Kingsley; H. O. Bulchand
---
To the Editor:
We report here on what we believe to be The following diagram summarizes the the first case of relapse in multibacillary (MB) leprosy following short-course chemotherapy for 28 days with daily doses of rifampin (R) 600 mg and ofloxacin (O) 400 mg.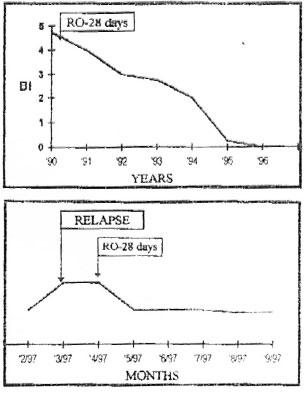 The following diagram summarizes the time sequence of events relating to a previously untreated, 30-year-old, male BL-LL patient with an initial bacterial index (BI) of 4.6+ who received treatment with the RO regimen from 27 December 1990 to 22 January 1991. The BI showed a gradual decline accompanied by clinical regression. The patient remained negative and sign free from 11 September 1995 (1,2 ) . Relapse of BL/LL lesions were noticed on 21 February 1997 with a mean BI of 1.3+. The case is under investigation for Mycobacterium leprae viability by mouse foot pad and drug sensitivity, etc.; the outcome is awaited. The patient was HIV negative.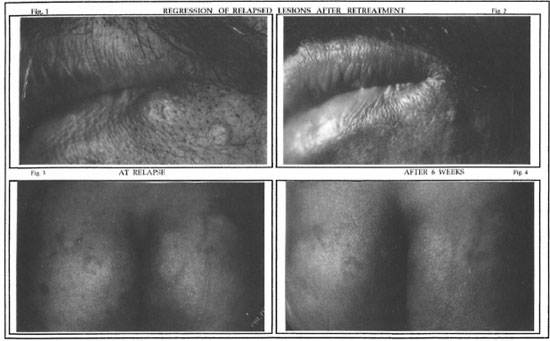 The figure. Regression of relapsed lesions alter retreatment.
The patient was treated with the same regimen of RO for 28 days under supervision, and the relapsed clinical lesions are regressing (Figs. 1-4). Currently, the BI is 1.3+. The satisfactory response to the same regimen so far indicates the possibility of "persisters" as the cause of relapse and not resistance to the drugs employed. The patient is under continuous observation.
All of the remaining 55 MB patients with a mean BI of >3+ included in the RO trial have reached a state of skin-smear negativity over a period of 6 years. None of them has relapsed.
- Dr. R. Ganapati
Dr. V. V. Pai
Dr. C. R. Revankar
S. Kinszsley
Dr. H. O. Bulchand
Bombay Leprosy Project
11 VN Purav Marg
Sion-Chunabhatti
Mumbai 400 022, India
REFERENCES
1. Ganapati, R. Leprosy - A Glimpse at the Changing Scenario. Bombay: Acworth Leprosy Hospital Society for Research. Rehabilitation and Education in Leprosy and Bombay Leprosy Project. 1996, p.30.
2. Ganapati , R., Pai. V. V., Schroff, H. J. and Gandewar, K. L. Rate of decline in bacterial index in leprosy; observations alter three different chemotherapeutic interventions. (Letter) Int. J. Lepr. 65(1997)264-266.