Volume 66 , Number 2
Page: 225–7
CORRESPONDENCE
Peptic ulcer and corticosteroid therapy

S. Arunthathi; D. Samuel Thomson Sugumaran; Sundar Raju Gorla; Sunitha Abraham
---
This department is for the publication of informal communications that are of interest because they are informative and stimulating, and for the discussion of controversial matters. The mandate of this Journal is to disseminate information relating to leprosy in particular and also other mycobacterial diseases. Dissident comment or interpretation on published research is of course valid, but personality attacks on individuals would seem unnecessary. Political comments, valid or not, also are unwelcome. They might result in interference with the distribution of the Journal and thus interfere with its prime purpose.
To the Editor:
It is usually believed that corticosteroid therapy is contraindicated in peptic ulcer. Some even believe that steroids cause peptic ulcer, even though others call this a myth and claim that the addition of nonsteroidal antiinflammatory agents (NSAIDs) to corticosteroid therapy contributes to the causation of peptic ulcer (1-4). Whatever be the ultimate truth, the problem of corticosteroid therapy and the possible precipitation of acid peptic disease is very relevant in leprosy since most of the leprosy reactions (both type 1 and type 2) are treated by corticosteroids.
We present here a patient who developed such a serious problem during corticosteroid therapy and how we approached the problem.
A 35-year-old male patient (borderline lepromatous leprosy, skin-smear positive, bacterial index (BI) = 4+] came to our hospital in February of 1997. He had been a chronic smoker for more than 10 years, and he had had episodes of abdominal pain relieved by food for I year. He was started on multibacillary multidrug therapy (MB/MDT) and sent home. After I month in March of 1997 he developed type 1 reaction with weakness of the left ulnar supplied muscles. MDT was continued and oral prednisolone 30 mg/day was added along with oral antacids. One month later (April 1997) he developed severe abdominal pain and was rushed to a nearby hospital where a perforated peptic ulcer was found at laparotomy. During the postoperative period after closure of the perforation and convalescence, prednisolone was discontinued. He once again developed a very severe type I reaction with multiple paralyses in May of 1997 and returned to our hospital. He felt grossly handicapped in the following ways: a) walking was seriously compromised due to bilateral foot drop; b) dressing and undressing and even eating became big problems (South Indians eat by scooping up the food, usually rice, with the right hand) because of bilateral ulnar median paralysis and, of course, gainful employment was totally out of the question with these multiple paralyses.
We decided to start corticosteroid therapy under cover of anti-ulcer therapy (oral ranitidine and oral antacids). The patient was started on oral prednisolone 40 mg/day, ranitidine 150 mg was given twice a day, and antacid liquids three times a day. When the dose of prednisolone was reduced to 30 mg/day, ranitidine 150 mg was given once daily. Later, only oral antacid tablets were supplemented. After 4 months of continuous corticosteroid therapy the edema of the skin lesions has completely subsided and the paralyses have greatly improved (The Table). He does not presently have any visible deformity due to leprosy nerve damage. He has no problem with personal care and has resumed his farm work. He still has bilateral plantar anesthesia and we are continuing oral prednisolone 20 mg/day, hoping that he will regain at least plantar protective sensation.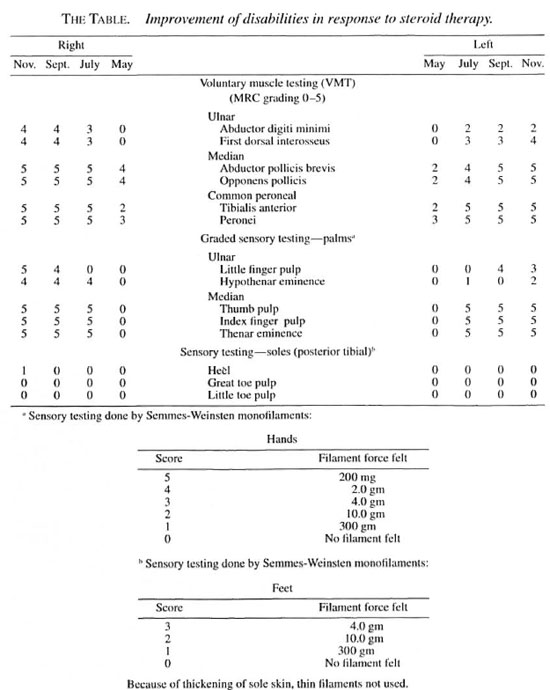 As far as we know this kind of problem and its management has not been reported in the leprosy literature. Feedback from the readers of their experiences in such problem areas will greatly help to view these difficult situations with the proper perspective and will be of benefit to both patients and physicians.
- S. Arunthathi, M.D., D.D.
Head, Branch of Medicine
- D. Samuel Thomson Sugumaran,
M.B.B.S., D.P.M.
Specialist, Branch of Medicine
-Sundar Raju Gorla, M.B.B.S.
Sunitha Abraham, M.B.B.S.
Medical Officers
Schicjfelin Leprosy Research & Training Center
Karigiri 632 106 N.A.A. District, Tamil Nadu
South India
REFERENCES
1. CONN, H. O. and BLITZER, B. L. Nonassociation of adreno-corticosteroid therapy and peptic ulcer. N. Engl. J. Med. 294(1976)473-479.
2. GUPLANDI, N. and TITOBELLO, A. Steroid ulcers; a myth revisited. BMJ 304(1992)655-656.
3. MESSER, J., REITKAN, D., SACKS, H. S., SMITH, J., JR. and CHALMERS, T. C. Association of adreno-corticosteroid therapy and peptic-ulcer disease. N. Engl. J. Med. 309(1983)21-24.
4. SPIRO, H.M. Is the steroid ulcer a myth? N. Engl. J. Med. 309(1983)45-47.