Volume 63 , Number 1
Page: 115–7
CORRESPONDENCE
Ocular leprosy: do steroids complicate matters?

Ebenezer Daniel; Rebecca Alexander; Shirley Chacko
---
To the Editor:
Unique to leprosy are acute inflammatory conditions such as reversal reactions (upgrading) and erythema nodosum leprosum (ENL). Associated with these two reactive phases are active neuritis, silent neuritis, arthralgias, and orchitis, all of which necessitate the use of oral steroids. Topical steroid eye drops are used in ocular inflammatory conditions, such as episcleritis, scleritis and iridocyclitis. The type, dosage, delivery and duration of treatment with oral steroids varies with the severity of the condition and the speed with which the inflammation subsides. Most steroid regimens for treating reactive episodes in leprosy patients do not exceed a dosage of 60 mg of prednisolone daily or a duration of 6 months. The dosage of topical steroid eye drops also varies with the severity and the resolution of the inflammation under treatment, but most often does not exceed 12 drops a day or a duration of 1 month.
Oral steroids taken for over a year or topical steroid eye drops applied over a prolonged period are known to produce ocular complications (3,4). One such complication is the formation of a posterior subcapsular cataract. Tissue-culture experiments have shown that the presence of steroids in the growth medium adversely affects the growth of human lens epithelial cells (1). Reversal of the posterior subcapsular cataract can occur in some patients after stopping chronic steroid therapy (2). One other well-known complication is the rise in intraocular pressure producing a secondary open-angle glaucoma. Both complications can occur at any time during chronic corticosteroid administration. The rise in intraocular pressure can be harmful by causing optic nerve damage. Fortunately, discontinuing the steroid allows the intraocular pressure to return to prctrcatment levels and, therefore, awareness and early diagnosis of the increase in pressure is very important. Although the secondary open-angle glaucoma and the secondary posterior subpolar cataracts are discernible as distinct entities in patients on long-term oral steroid therapy, evaluation of the occurrence of these complications in patients with iridocyclitis on topical steroid eye drops is difficult. Iridocyclitis by itself can produce both complicated cataracts and secondary closed-angle glaucoma, and the classical steroid-associated ocular complications usually can be obscured.
In our experience, routine biomicroscopic ocular examination and applanation tension evaluation of leprosy patients put on 60 mg of oral prednisolone, tapered gradually over a period of 6 months, has not revealed the manifestation of these complications except in one young male patient. He developed a posterior polar cataract after 2 months of steroid therapy. We have, however, noticed the occurrence of classical steroid-induced ocular complications in some leprosy patients who had been on oral steroid therapy for over a year (The Figure). A common factor encountered in these patients is that of prolonged, unsupervised, irregular self--medication with steroids. We do not know how prevalent this malady is among leprosy patients but we do know that it does occur. These patients are prone to steroid-induced ocular complications that would only enhance the blindness and ocular morbidity statistics of leprosy patients unless adequate care is given to detecting these patients early and helping them adequately and appropriately.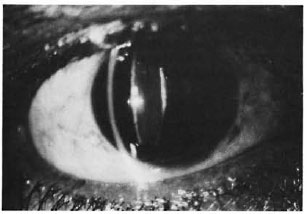 The figure. Slit-beam illustrating posterior sub-polar cataract in a 27-year-old, borderline lepromatous patient on protracted, unsupervised oral steroid therapy.
All leprosy patients being put on longterm steroid therapy should have, as far as possible, a baseline ocular examination, followed by frequent slit-lamp examinations and applanation tension evaluations until the steroids are tapered off completely. While this may be possible in well-established tertiary hospitals it may not be practical in most leprosy-endemic control programs. In such cases both the medical personnel and the paramedical field workers should learn to record visual acuity and to estimate digital intraocular tension. Patients in whom alterations in vision or in intraocular pressure are perceived should be referred immediately to a center where a more comprehensive eye examination can be done. There are many field programs in which steroids, although of smaller strengths and shorter duration, are given to patients as a domiciliary treatment. In such situations the paramedical worker should teach the patient to self-test his visual acuity, albeit grossly, to teach a relative to estimate digital intraocular tension and to inculcate in both the importance of reporting promptly any change. Diabetics, individuals with high degrees of myopia and their relatives form a high-risk group prone to an increase in intraocular pressure on steroid administration. Leprosy patients categorized within this group would need intense hospitalized care during their steroid therapy.
The appearance of any steroid-induced ocular complication should, in all possible situations, dictate a policy of rapidly tapering the steroids and, if necessary, the addition of nonsteroidal anti-inflammatory drugs to try to offset the deprivation of the anti-inflammatory effects of the steroids.
- Ebenezer Daniel, M.S., D.O.
Rebecca Alexander, D.O.
Shirley Chacko, D.O.
Department of Ophthalmology
Scheiffelin Leprosy Research and Training Center
Karigiri, North Arcot District
Tamil Nadu 632106, India
Acknowledgment. The authors acknowledge with gratitude the input of Dr. Charles K. Job in this letter.
REFERENCES
1. JACOB, T. J., KARIM, A. K. and THOMPSON, G. M. The effects of steroids on human lens epithelium. Eye 1(1987)722-727.
2. LIMAYE, S. R., PILLAI, S. and TINA, L. U. Relationship of steroid dose to degree of posterior subcapsular cataracts in nephrotic syndrome. Ann. Ophthalmol. 20(1988)225-227.
3. MOHAN. R. and MURALIDHARAN, A. R. Steroid induced glaucoma and cataract. Indian J. Ophthalmol. 37(1989)13-17.
4. RENFRO, L. and SNOW, J.S. Ocular effects of topical and systemic steroids. Dermatol. Clin. 10(1992)505-512.