Volume 61 , Number 4
Page: 633–4
CORRESPONDENCE
Lack of response to WHO/MDT; a case report

Haileselassie Habtemariam; Mimi Guebre-Xabier
---
To the Editor:
We report a 25-year-old Ethiopian girl first seen at ALERT Hospital on 21 May 1991 with a diagnosis of subpolar lepromatous leprosy. She was enrolled in the brodimoprim short-course clinical trial and received the drug from 3 June through 19 September 1991. Prior to starting the trial and again at the end of the trial mouse foot pad viability tests were performed and in both instances showed growth in 8 of 8 in-oculated mice.
She showed no clinical response to brodimoprim. She was then placed on a modified World Health Organization multidrug therapy (WHO/MDT) regimen consisting of an initial intensive phase of 21 days of daily rifampin, supervised, at a dose of 600 mg daily, together with 100 mg daily of clofazimine and 100 mg daily of dapsone. The patient was then continued on clofazimine 100 mg daily and dapsone 100 mg daily until 23 December 1991 when she developed erythema nodosum leprosum (ENL). She was treated with systemic prednisolone and 100 mg three times daily of clofazimine for her ENL with good response.
Two months later her ENL recurred. This time she was treated with systemic corticosteroids and was placed on standard WHO/MDT. Two months after the start of WHO/MDT her ENL had responded but the response to the antibacterial treatment was poor, i.e., there was no clinical regression of nodules and the reduction in the bacterial index and morphological index was poor.
At this point the possibility of multipledrug resistance was considered. Mouse foot pad drug sensitivities were set up and the patient was treated with clofazimine 100 mg daily and rifampin 600 mg daily. The results of the mouse foot pad drug sensitivity studies are given in The Table. In the next 6 months her response to therapy was good clinically and bacteriologically. Because of the suspicion of multiple-drug resistance she was also given ofloxacin 200 mg twice daily for 3 months. The patient was discharged 4 June 1993 on clofazimine 100 mg daily and rifampin 600 mg once monthly, to be continued for 1 year, with an appointment to return for follow up.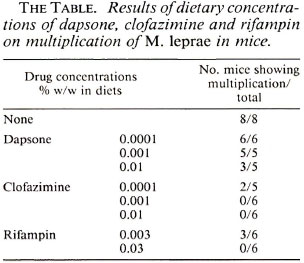 CONCLUSIONS
Several reports have been made of Mycobacterium leprae resistance to dapsone and rifampin (1-3) when the drugs were administered individually. There is one report of resistance to clofazimine developing after monotherapy (4). On clinical grounds the patient presented here was resistant to all three drugs. She is the first patient we have seen with such a problem.
The mouse foot pad studies showed viable organisms 6 months after being treated with rifampin 600 mg daily under supervision for 21 days, after 6 months of daily clofazimine, and after dapsone 100 mg daily for 4 of the preceding 6 months including the 2 months immediately prior to the mouse foot pad study. The drug sensitivity studies show full resistance to dapsone, sensitivity to clofazimine, and probable sensitivity to rifampin. She responded to clofazimine and rifampin following the biopsy for drug sensitivity studies.
Our experience with this patient has caused us concern. Harboring M. leprae strains resistant to the three standard drugs for MDT is a threat to the management of the patient in particular and to the community in general. Very careful surveillance of primary and secondary resistance to the existing WHO/MDT regimen should be undertaken. With this patient presenting clinically as a case of primary resistance to dapsone, clofazimine and rifampin combined, and with other cases presently occurring at ALERT with dapsone resistance, the question arises as to how advisable it may become to continue to treat paucibacillary leprosy with only two drugs.
New combinations of antileprosy drugs should be worked out in advance for the possibility of full resistance to all three of the components of WHO/MDT. Until these new antileprosy regimens are worked out, we suggest that some of the earlier drugs, such as ethionamide and streptomycin, might be re-evaluated for the management of multidrug-resistant leprosy.
- Haileselassie Habtemariam, M.D.
All Africa Leprosy Rehabilitation & Training Center (ALERT)
P.O. Box 165
Addis Ababa, Ethiopia
- Mimi Guebre-Xabier
Armatter Hansen Research Institute (AHRI)
P.O. Box 1005
Addis Ababa, Ethiopia
Acknowledgment. The authors would like to thankall of the ALERT Hospital senior staff.
REFERENCES
1. GROSSET, J. H., JI, B. and ITO, T. The First Joint THELEP-Sasakawa Memorial Health Foundation Workshop on Experimental Chemotherapy of Leprosy. Int. J. Lepr. 55Suppl.(1987)807-813.
2. JACOBSON, R. R. Treatment. In: Leprosy. Hastings, R. C., ed. Edinburgh: Churchill Livingstone, 1985, pp. 193-222.
3. PEARSON, J. M. H., HAILE, G. S. and REES, R. J. W.Primary dapsone-resistant leprosy. Lepr. Rev. 48(1977)129-132.
4. WARNDORFF-VAN DIEPEN, T. Clofazimine-resistant leprosy, a case report. Int. J. Lepr. 50(1982)139-142.